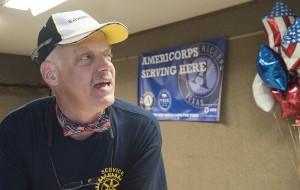 Volunteer Reception Center in Canton, Texas to Aid Volunteers, Organizations, and Homeowners in Henderson, Rains and Van Zandt Counties
East Texas – The Canton Texas Fairgrounds is serving as a Volunteer Reception Center (VRC) for those interested in volunteering to support tornado recovery efforts in the counties of Henderson, Rains, and Van Zandt:
Canton Texas Fairgrounds
24742 State Highway 64 Canton Texas
Hours of Operation: 8am – 4pm Monday – Saturday
903.502.0151
AmeriCorps*Texas members from Texas Conservation Corps, in coordination with the Texas Division of Emergency Management and local jurisdictions, has established a VRC to give volunteers the opportunity to learn about, and sign up for, volunteer opportunities throughout Henderson, Rains, and Van Zandt Counties. Partnering with numerous vetted groups and organizations who are providing disaster assistance, the VRC provides the public with a central location for getting involved. Upon registration, volunteers will be matched with opportunities based on interest, skill, and availability.
Individuals and groups interested in volunteering should call the VRC at 903.502.0151 or visit 24742 State Highway 64 Canton, TX Monday – Saturday between 8am and 6pm.
In addition, homeowners in need of recovery assistance can stop by the VRC to fill out a homeowner intake form. The VRC will then provide volunteer support through affiliated agencies.
Emergency Management Officials request that all volunteers register with the VRC or a voluntary agency. Voluntary agencies should call, visit, or e-mail the VRC to check-in and report voluntary hours.
For additional information about resources available in your community, please dial 211.
###