2018 National Service Recognition Day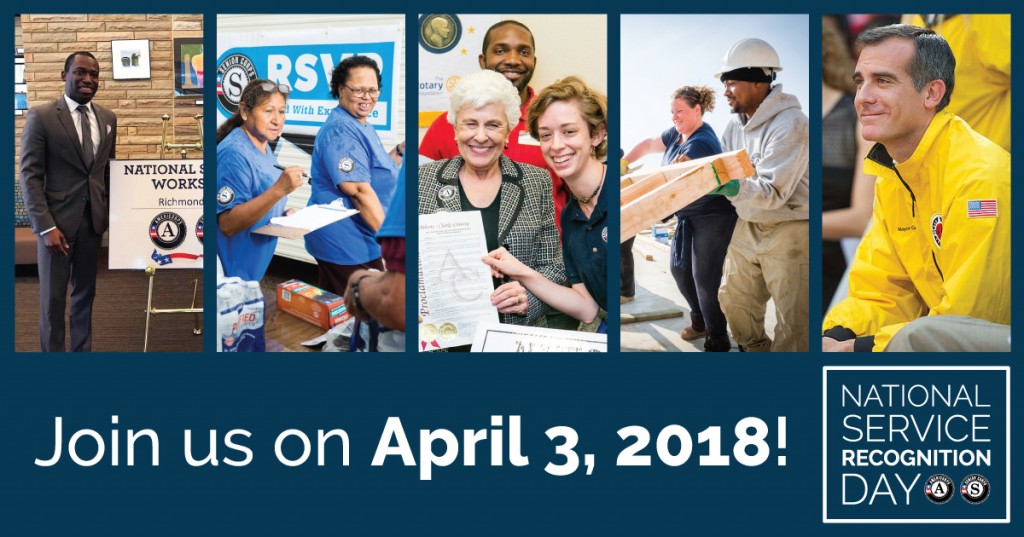 On National Service Recognition Day, thousands of local leaders honor AmeriCorps members and Senior Corps volunteers by participating in recognition events, issuing official proclamations, and taking to social media in a nationwide show of appreciation. The sixth-annual National Service Recognition Day will take place on Tuesday, April 3, 2018. Mayors and city leaders, county officials, and tribal leaders across the country are using national service more and more to solve their community's toughest challenges. CNCS, America's leader in volunteering and service efforts, engages over 325,000 AmeriCorps members and Senior Corps volunteers in national service at more than 50,000 locations each year. Through partnerships with schools, faith-based groups, non-profits, and local agencies, national service members are embedded within the communities they serve, using their ingenuity and training to make a tangible, lasting impact. Whether responding to natural disasters, tackling the opioid epidemic, educating students for the 21st century workforce, or supporting veterans and military families, AmeriCorps members and Senior Corps volunteers help local leaders make their communities stronger.
Over the past four years, Texas has been among the top states in the nation for most participating local officials including State Legislators, Mayors, County Judges and Commissioners, and more. In 2017, 541 elected officials participated in Texas, representing over 24 million Texans, which is 86% of the population!
This year, help Texas communities recognize AmeriCorps members and Senior Corps volunteers at the local level by taking action in one or more of the following ways:
Ask your local Representatives, Mayors, County Judge/Commissioners, or other officials to sign on today!
Details coming soon!
City

Official's Name

Details

Amarillo

Mayor Pro Tem Eddy Sauer

Mayor Pro Tem Sauer will arrive at High Plains Food Bank Garden at 8:30AM to recognize those serving in AmeriCorps. The National Service Volunteers from Amarillo ISD, HIPPY and Senior Corps RSVP will complete a service project at High Plains Food Bank Garden following the proclamation reading.

Corpus Christi

Mayor Joe McComb

On April 4th from 11am-1pm, Mayor Joe McComb will be joining a National Service Recognition Day Picnic at Heritage Park, 1609 N. Chaparral St., Corpus Christi.

Dallas
Judge Jenkins
Witness a historical proclamation in honor of national service and celebrate AmeriCorps and Senior Corps on Tuesday, April 3, 2018 from 9am to 9:45am at Dallas County Commissioners Court.

Denton

El Paso

Congressman O'Rourke

El Paso Commissioners Court

El Paso City Council

On Monday, April 2nd Congressman O'Rourke is holding a town hall meeting at Chapin High School at 9am. He will present local agencies that work with CNCS with a Congressional Recognition Certificate.

On Monday, April 16th at 9:30am the El Paso County Commissioners Court will issue a proclamation recognizing the work of CNCS in the El Paso County.

On Tuesday, April 17th at 9am the El Paso City Council will issue a proclamation recognizing the work of CNCS in the city of El Paso.

Fort Worth

Houston

Mayor Sylvester Turner

Join Houston AmeriCorps and Senior Corps Programs for a Mayoral Proclamation followed by reception on Tuesday, April 3, 2018 from 12:00 – 1:00pm at the Houston City Hall, Legacy Room.

San Antonio

Mayor Ron Nirenberg
Mayor Nirenberg will be issuing a proclamation at 1:30 on the steps of City Hall. The proclamation will be followed by a reception the City Council Chambers.

Travis County

Judge Eckhardt
Travis County Judge Eckhardt and Travis County Commissioners will issue a proclamation in support of national service on Tuesday, April 3 2018 at 11:30am at Travis County Commissioners Court: 700 Lavaca Street, Austin, TX.

Waco