2021 AmeriCorps Texas Grantee Meeting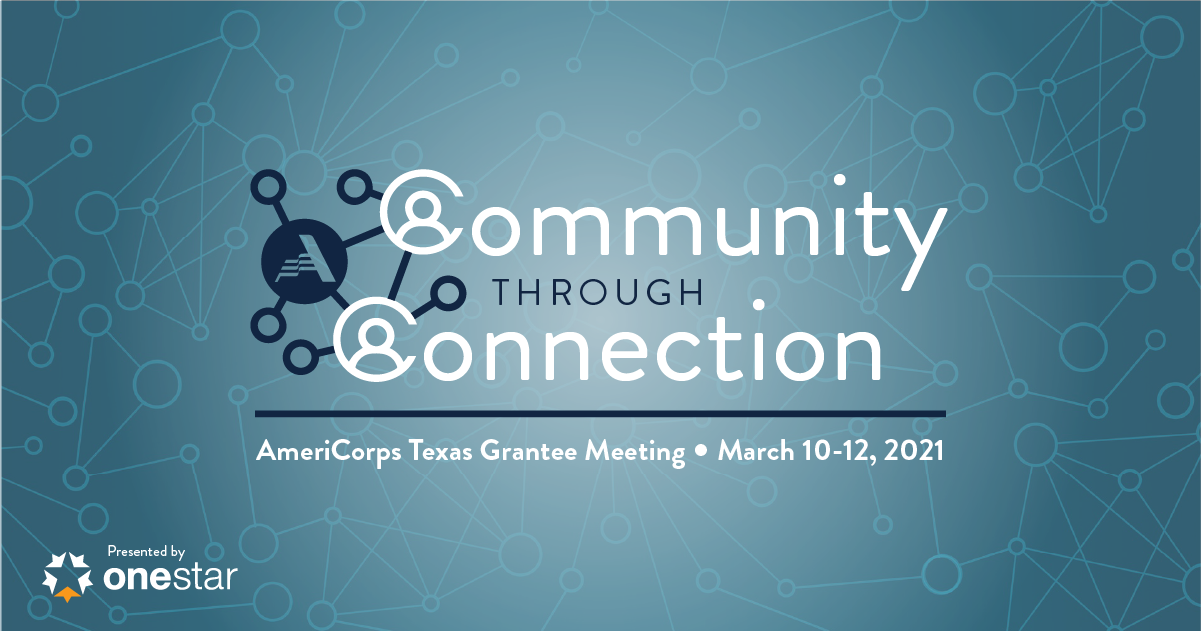 As we have remained socially distanced while navigating the effects of the pandemic, one insight rings true: we need connection to keep our communities strong.
Join us March 10-12, 2021, for the annual AmeriCorps Texas Grantee Meeting! This year's theme of Community Through Connection is an expression of AmeriCorps Texas at its best – diverse and caring Texans coming together to support and empower their local communities through genuine and meaningful connections. This year, AmeriCorps Texas programs and members have creatively and successfully adapted service opportunities to remain connected to each other and the beneficiaries they serve. As we virtually gather for our annual meeting, we look forward to celebrating, sharing, and fostering ways to build community through connection.
The overall goals of the AmeriCorps Texas Grantee Meeting are to ensure that participants:
Learn new strategies for growth from a programmatic, member management, fiscal, and grant administration perspective.
Connect virtually with their peers in national service and OneStar staff.
Reflect on the best practices and collaborate with their peers to continue delivering high quality, impactful programs to members and service recipients.
The AmeriCorps Texas Grantee Meeting will be held virtually via the Zoom video conferencing platform. Download the agenda for the schedule, session descriptions, and presenter bios.
DOWNLOAD AGENDA & SESSION DESCRIPTIONS
---
Session Materials
All session materials will be available for download online prior to the event. You are invited to save and/or print them in advance.
Download Session Materials
Materials will be uploaded on a rolling basis as they become available.
Materials for AmeriCorps Texas Grantee Meetings from previous years can be downloaded here: 2020 | 2019 | 2018 | 2017
---
Participation Requirements
Per the 2020 OneStar Terms and Conditions, participation in the AmeriCorps Texas Grantee Meeting is mandatory.
Attendance by the Primary Program staff contact is required on Wednesday, March 10.
Attendance by the Primary Fiscal staff contact is required for the Fiscal Management Affinity Group on Thursday, March 11.
If a Primary contact is not available, please contact your Program Officer for approval of an appropriate substitute. All mandatory events require full participation. Failure to participate fully in mandatory events will become part of the program's grantee performance report and will result in the issuance of a Notice of Noncompliance. Full participation is defined by:
Participants attend all scheduled sessions (plenary and breakout) in full (from scheduled start to end time);
Participants are actively engaged in all sessions (plenary and breakout) and activities;
Participants maximize all opportunities for learning, sharing and networking; and
Participants are responsible for sharing and applying all knowledge and updates received during the meeting.
Programs are welcome to register additional staff members who may benefit from this training. OneStar has provided a tentative agenda at-a-glance and will share final session descriptions on Monday, February 15, so that programs may review the content and determine which relevant staff members should be in attendance. OneStar also welcomes AmeriCorps National programs with placement sites in Texas to attend.