AmeriCorps 20th | OneStar 10th Anniversary

This Page Contains:
---
On September 12, 2014, like-minded individuals from across the State of Texas came together to witness the largest AmeriCorps swearing-in and recognition ceremony in Texas history. This was part of the nationwide event featuring the simultaneous swearing-in of 80,000 AmeriCorps members and alums being live streamed by the Corporation for National and Community Service in Washington, D.C. and other state commissions across the country.
The event was held at the University of Texas at Austin historic Lyndon B. Johnson Auditorium and Presidential Library and Museum.
The Ceremony Consisted of:
Musical performances by the Longhorn Brass and String Quartet
Pre-program videos with special messages from Dan Rather, Neil Bush, and Robert Marbut, Jr. Watch those on our YouTube channel.
Speeches from prominent Texas leaders, alums, and champions of service. Click here to view the Event Program and Speaker Biographies.
Live streaming of swearing-in ceremony of over 80,000 AmeriCorps members nationwide.
A celebratory toast to all OneStar Foundation and AmeriCorps supporters!
A reception held in the LBJ School of Public Affairs.
Watch the full recording of the anniversary ceremony held in Washington, D.C. and the ceremony in Austin, TX.
See the OneStar 10th | AmeriCorps 20th Anniversary photos on Flickr or watch the slideshow here!
---
We had media coverage like never before, tons of social media support, and reports on the success of AmeriCorps.
Newsworthy
Austin Business Journal, An Army of Good: OneStar Foundation Celebrates 10 Years of Service
Austin Chronicle, AmeriCorps at 20 & Best Service Provider Award Winner of the Best of Austin Critic Pick Award
Time Warner Cable News, AmeriCorps Volunteer Sees Service as a LifeStyle & Americorps Anniversary Celebrated at LBJ Library
Reporting Accomplishments of AmeriCorps
Three national reports were released in conjunction with the AmeriCorps 20th Anniversary. Read and download the reports from the News section of our website.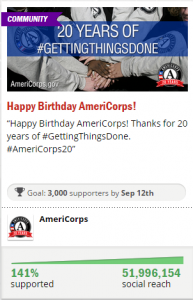 We made an impression!
Thanks to you, the AmeriCorps 20th Anniversary ThunderClap campaign was the 4th largest campaign in history and the largest campaign by a federal agency. For those that don't know, ThunderClap is an automated posting system that links messages to your social media accounts. Supporters easily signed up to have an automated Facebook post, Twitter tweet, and Tumblr post sent out about the 20th Anniversary on behalf of them.
You helped get the hashtag, #AmeriCorps20, trending nationally and contributed to a reach of 51,996,154 people across the world. We also enjoyed seeing all your photos on social media with the photo frame. Texas supporters definitely made an impression!
---
Programs around the state of Texas planned local area events in Amarillo, Dallas-Fort Worth, El Paso, Houston, Rio Grande Valley, and San Antonio on September 12th. OneStar Foundation awarded mini-grants to assist these groups in implementing spectacular anniversary celebrations. Scroll below for details on those events, photos and news.
See most regional event photos in our Flickr album or watch the slideshow here!
Amarillo – Amarillo ISD AmeriCorps hosted a school-day "field trip" for their AmeriCorps members on 9/12 that included a service project at the High Plains Food Bank as well as a viewing party of the Texas/national live stream Swearing In on 9/12; they were joined by the Amarillo Senior Corps RSVP Program as well. In the early morning volunteers harvested food from the High Plains Food Bank Garden which later was distributed to the community. Viewing of the state and national ceremonies took place in the HPFB Community Meeting Room along with participation in the Swearing-In Ceremony. Light refreshments were served following the ceremony. Speakers will included AmeriCorps Alums, former program, and Amarillo ISD personnel.

Dallas-Fort Worth – The North Texas AmeriCorps Alliance, including CitySquare, Reading Partners, Texas HIPPY Corps, Project Transformation, AVANCE, and North Texas Alums hosted an event from 9:30-11:30 a.m. CST at the American Red Cross Building and participated in the national livestream. The day began with a morning service project where members built disaster preparation kits and learned about disaster preparedness. The day ended with a lunch reception. See photos HERE!
Houston – Several Houston AmeriCorps grantees such as Harris County Department of Education, Houston Center for Literacy, Project GRAD, College Forward, and Houston AmeriCorps Alums hosted a morning Swearing In Ceremony and afternoon service project on September 12th. The service project consisted of speeches from prominent Houston area leaders and AmeriCorps members collaborating with Making It Better to create 500 back-to-school backpacks for low income students in the Houston area. See photos HERE.
Media Coverage in Houston:
El Paso – In honor of the 20th year of AmeriCorps, El Paso AVANCE's 50 AmeriCorps Members and United Way of El Paso County's 20 AmeriCorps Members celebrated with cake, taking the AmeriCorps "Pledge to Serve" and participated in an act of kindness activity by delivering gift baskets to the 34 local fire stations! The 70 AmeriCorps Members want to thank the El Paso fire stations for their service and encourage them to participate in their own act of kindness activity. See the City of El Paso AmeriCorps 20th Anniv. Proclamation.
Teach for America also made this awesome video, thanking AmeriCorps for their service.
San Antonio – City Year San Antonio hosted a 20th anniversary event in conjunction with their Opening Day event at the Historic Sunset Station Friday, September 12th. See photos HERE.
Waco – Communities In Schools in the Heart of Texas hosted a viewing party of the Texas/national live stream Swearing In the morning of 9/12 at the Hispanic Chamber of Commerce. See photos HERE.
Find out more about AmeriCorps and the 20th anniversary events around the country at americorps.gov.
---
On September 12, 2014, AmeriCorps turned 20. We got together on this one day and celebrated from coast to coast. Let's keep in touch through the next 20 years!
Follow us!
OneStar Foundation is active on Facebook and Twitter by promoting the Texas nonprofit sector and supporting AmeriCorps Texas grantees. Follow us if you're interested in hearing about grant opportunities, reports, and innovation in the nonprofit sector. If you're interested in knowing more about
AmeriCorps Texas
you should Like us on Facebook too.
Follow and search these hashtags to check what's being said about the OneStar Foundation, national service, and AmeriCorps!
AmeriCorps Alums is the only national network that connects the nearly 1 million alumni of all AmeriCorps programs. We aim to double our network membership in 2014. Join TODAY—for free—and in just 5 minutes be connected to the people, ideas, and resources that support your commitment to a lifetime of service.
---
We commemorated this momentous occasion with a shirt that displays both Anniversary logos and OneStar's full portfolio of grantees made up of 24 local and national programs.
---
About AmeriCorps
AmeriCorps is a cost-effective solution to America's toughest problems
AmeriCorps also expands education and economic opportunity
AmeriCorps strengthens the impact of our state and nation's nonprofits
AMERICORPS FAST FACTS
830,000: Number of individuals who have served as AmeriCorps members since 1994.
1 billion: Total number of hours served by AmeriCorps members since 1994.
$2.6 billion: Total amount of Segal AmeriCorps Education Awards earned by AmeriCorps members.
4 million: Number of community volunteers managed or mobilized by AmeriCorps members in 2013.
25,000: Number of nonprofits, faith-based and community organization, schools, and other sites that AmeriCorps members serve with annually.