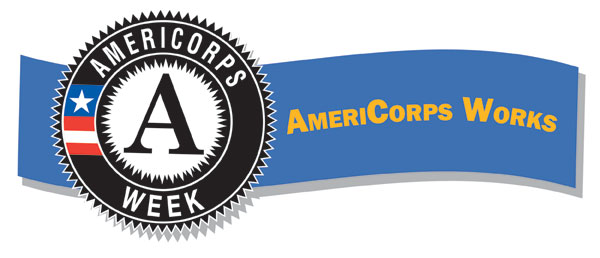 Each year during AmeriCorps Week, OneStar and the Corporation for National and Community Service recognizes the commitment of AmeriCorps members and alums by highlighting the extraordinary impact AmeriCorps makes across our nation every day.
AmeriCorps Week is a time to salute AmeriCorps members and alums for their service, thank AmeriCorps community partners, and communicate AmeriCorps impact on communities and on the lives of those who serve.
The theme, AmeriCorps Works, reflects AmeriCorps' triple bottom line return on investment — for the recipients of service, the people who serve, and the larger community and nation.
Every day across the nation AmeriCorps members are tackling America's toughest problems in:
Disaster Services
Economic Opportunity
Education
Environmental Stewardship
Healthy Futures
Veterans and Military Families
Celebrating AmeriCorps in Texas
OneStar Foundation joins the Corporation for National and Community Service in applauding Texas AmeriCorps members and programs for their legacy of service over the years. Did you know that:
Of the 75,000 citizens across the nation who are serving as AmeriCorps members as of 2015, 3,600 of them are serving in Texas this year?
Of the 900,000 men and women who have joined AmeriCorps since 1994, 47,000 of them have been Texas residents?
Texas AmeriCorps members have contributed a cumulative 62 million hours of service since 1994, helping to improve the lives of our state's most vulnerable citizens, respond to disasters, strengthen education, expand economic opportunity, provide health services, protect the environment, and support veterans and military families?
Texas AmeriCorps members serve with more than 500 nonprofit, community, educational, and faith-based community groups across the state?
Texas AmeriCorps members have earned more than $133 million in Segal AmeriCorps Education Awards to help pay for college or pay back student loans?
Source: National Service in Texas: State Profile, 2014.
Download our 2014-15 AmeriCorps Performance Highlights (Texas) to learn more about the impact AmeriCorps has on Texas!
Resources and Links
Click here to read the Governor's Proclamation of AmeriCorps Week commending these and other accomplishments of AmeriCorps in Texas and urging citizens to thank AmeriCorps members and alumni for their service and to find ways to give back to their communities.
Use social media to share the positive impact that AmeriCorps has had on your programs and communities during AmeriCorps Week. Follow OneStar on Twitter and OneStar on Facebook as well as our AmeriCorps*Texas Facebook page for updates on how AmeriCorps programs are celebrating and honoring AmeriCorps Week in Texas!
Join the national AmeriCorps Week conversation on Facebook and Twitter (@AmeriCorps) and don't forget to use the hashtag #AmeriCorpsWorks!
Check out the national AmeriCorps Week webpage to order and download AmeriCorps Week materials, and learn how you can highlight your work by using the AmeriCorps Week Impact Guide.
Read the State Profile of National Service in Texas, which includes impressive historical information and data on the impact of all streams of service (AmeriCorps, Senior Corps, and Learn and Serve) in our state. Download additional reports and information on national service in Texas, available here.