Mayors Day of Recognition 2014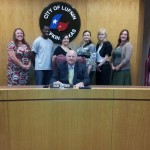 Click here for the Press Release issued March 31, 2014.
The nation's mayors are increasingly turning to national service as a cost-effective strategy to address city challenges. By unleashing the power of citizens, AmeriCorps and Senior Corps programs have a positive and lasting impact – making our cities better places to live.

To spotlight the impact of national service and thank those who serve, mayors across the country and the State of Texas participated in the second-annual Mayors Day of Recognition for National Service on April 1, 2014. Mayors issued Proclamations, held public events, and used traditional and social media to highlight the value and impact of national service to the nation's cities.
In 2013, 832 mayors nationwide represented nearly 100 million citizens, participating in the inaugural Mayors Day of Recognition for National Service. In 2014, 1,760 mayors signed on — of these, Texas ranked #2 in the nation with 130 Texas mayors!
View our album full of photos from Mayors Day of Recognition all across the State of Texas.
The following Texas mayors signed on to recognize national service in 2014. Click on a red drop pin to view the city that participated, event descriptions, proclamations, and any media coverage from their Mayors Day of Recognition for National Service.
View a copy of the 2014 Mayors Day Flyer and a Sample Proclamation to share with your mayor.
The initiative was led by the Corporation for National and Community Service; Cities of Service; the National League of Cities; and Mesa, AZ, Mayor Scott Smith, President of the U.S. Conference of Mayors.
---