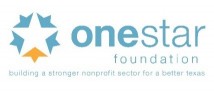 FOR IMMEDIATE RELEASE
February 1, 2017
Contact: Liz Darling
(512) 287-2062
Liz@onestarfoundation.org
NOMINATIONS OPEN FOR THE 34th ANNUAL GOVERNOR'S VOLUNTEER AWARDS
AUSTIN - In conjunction with the Office of the Governor, OneStar Foundation announced today that nominations for the 34th Annual Governor's Volunteer Awards are now open. These awards honor the exemplary service of individuals, groups and organizations that have made a significant and measurable contribution to their communities through service and volunteering.
Nominations are open through March 31, 2017 in the following categories:
• Governor's Lone Star Achievement Award
• First Lady's Rising Star Award
• Partners in Education Award
• Service to Veterans Award
• Higher Education Community Impact Award
• Corporate Community Impact Award
• Community Leadership Award
• National Service "Make a Difference" Award
Awardees will be honored at an evening reception in the Fall hosted by Honorary Chair of the Governor's Volunteer Awards, Texas First Lady Cecilia Abbott at the Texas Governor's Mansion in Austin.
Click here to see descriptions and criteria for each award. Click here to submit a nomination or email gva@onestarfoundation.org for more information. To learn more about OneStar Foundation please visit our website at OneStarFoundation.org.
# # #
OneStar Foundation is a nonprofit agent of the state created as a public/private partnership working on behalf of the state to further volunteerism and community service, and to increase the impact and effectiveness of the nonprofit sector. OneStar serves as a neutral convener and a respected partner to nonprofits, foundations, state agencies, and the business community.
Event sponsorships will be made to and for the use of OneStar Foundation in planning and administering the 2017 Governor's Volunteer Awards program. Any funds received over and above the budget of the solicited purpose will be used in furtherance of OneStar Foundation's charitable purposes.