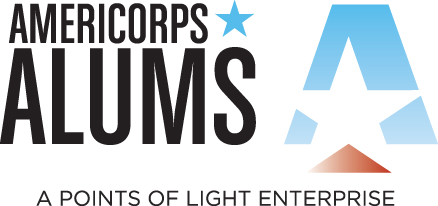 AmeriCorps Alums is a community of engaged citizens and civic leaders that gets things done for America. It is the only national network that connects the nearly one million alumni of all AmeriCorps programs who have served since 1994 (including an estimated 80,000 new alumni each year) to the people, ideas, and resources that support their commitment to a lifetime of service.
For the latest news and networking opportunities, like us on Facebook, follow AmeriCorps Alums on Twitter, and join our LinkedIn group. Click below to learn more about our leadership team, partners, newsletters and publications.
Mission
AmeriCorps Alums empowers and equips alumni of AmeriCorps to be the solutions to community challenges. When one in five children lives in poverty, high school dropout rates persist, and the rungs of the ladder to economic mobility are shaky at best, AmeriCorps Alums can be part of the solution to closing the opportunity divide and other challenges we face. That's why AmeriCorps Alums' mission is to support alumni of all AmeriCorps programs to grow as civic leaders, for life. Help us build a movement and join us today!
Why Join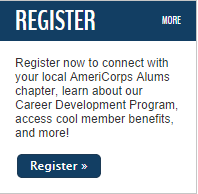 As the only nonprofit association for all alumni of national service, we CONVENE Alumni in Local Chapters, LEAD in National Professional and Leadership Development, SUPPORT Life After AmeriCorps with Member Benefits, and ELEVATE Alumni as Advocates. Register to receive maximum benefits.
See other great reasons why you should join AmeriCorps Alums today and view member benefits.
Texas Chapters
The AmeriCorps Alums network of chapters is the connection point for local engagement of alumni. Over 85 chapters operate across the country, which creates opportunity for our alumni to continue to serve, build professional relationships, and receive professional development training. There are 5 active chapters in the state of Texas.
Contact your local chapter and learn more on their social media sites.
Austin
Email: austin@americorpsalums.org
Houston
Email: houston@americorpsalums.org
North Texas
Email: northtexas@americorpsalums.org
Facebook | Twitter | Blog | LinkedIn
San Antonio
Email: sanantonio@americorpsalums.org
Schulenburg
Email: schulenburg@americorpsalums.org