Texas Interagency Coordinating Group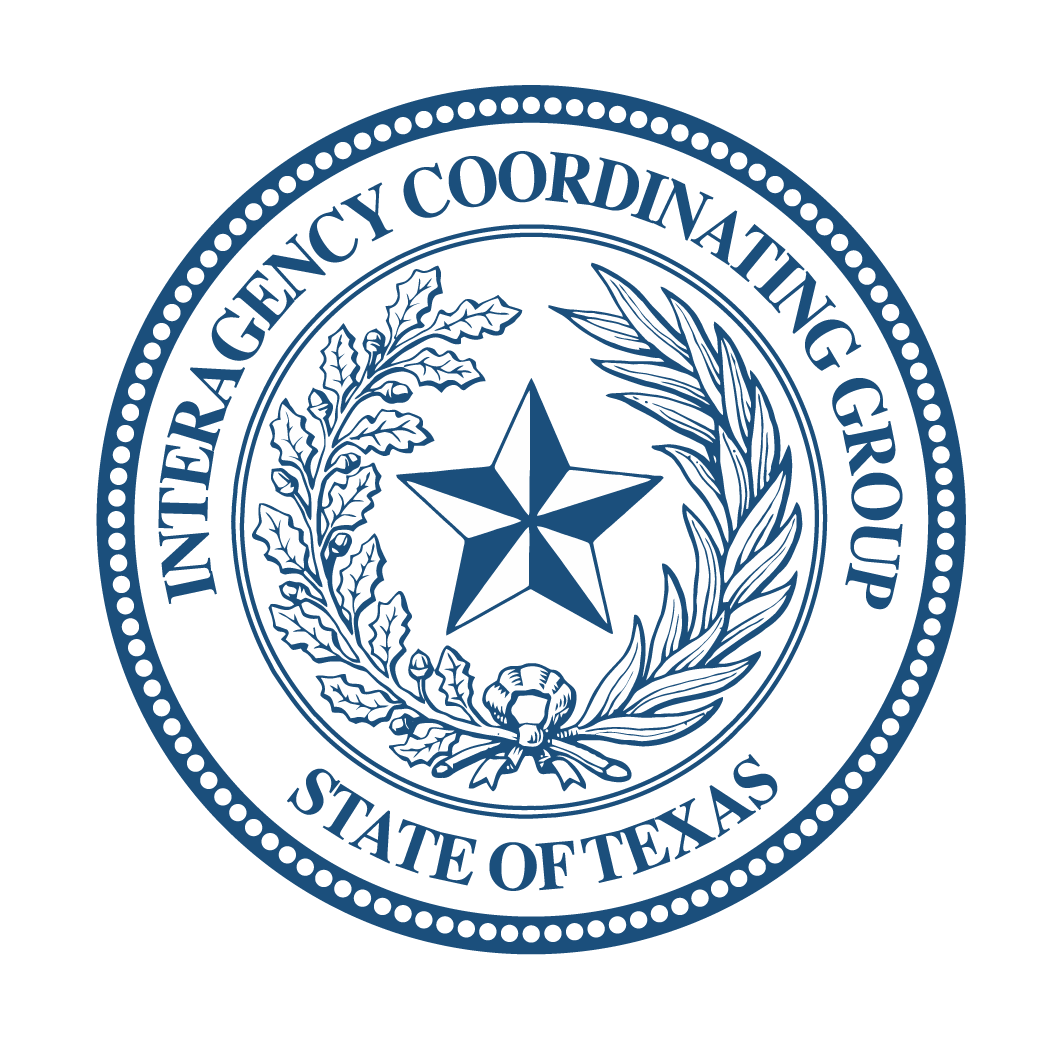 In 2009, the Texas Legislature passed legislation creating an Interagency Coordinating Group (ICG) of state agencies charged with improving the working relationship between faith-based and community organizations and state government. In 2011, the ICG was expanded to include even more state agencies. The head of each agency, in consultation with the Office of the Governor, designated a high-level liaison to serve on the Interagency Coordinating Group. ICG meetings are posted in the Texas Register and are open to the public.
The annual reports from the ICG to the Texas Legislature can be viewed here.
For more information on working with state agencies, please see our pages on Partnering with State Agencies and the Texas Faith-Based and Community Initiative.
State Agency Faith & Community Liaisons serving on the Interagency Coordinating Group
Department of Agriculture
Catherine Wright-Steele, Governmental Affairs Director
Department of Family and Protective Services
Lesley Guthrie, Volunteer and Community Engagement
Department of Information Resources
John Hoffman, Chief Technology Officer
Department of State Health Services
Ricardo "Ricky" Garcia, Center for Policy and External Affairs
Health and Human Services Commission
Elisa Hendricks, Deputy Associate Commissioner at Texas Health and Human Services Commission
Office of the Attorney General
Amanda Sanders, Outreach Director
Office of Secretary of State
Vincent Houston, Director of Administrative Services
Office of State-Federal Relations
Thomas W. "Wes" Hambrick, Office of the Governor
Institution of Higher Education
Dr. Molly Beth Malcolm, Vice President Community Engagement and Public Affairs – Austin Community College
Office of the Comptroller
Michelle Lee Reynolds, Employee Engagement, Office of the Comptroller
Office of the Governor
Gregory S. "Greg" Davidson, Executive Clerk & Director of Constituent Communications
Public Utility Commission of Texas
Chris Burch, Director, Customer Protection
Texas State Commission on National and Community Service
Chris Bugbee, CEO – OneStar Foundation
Texas Commission on Environmental Quality
Roger Dube, Procurements
Texas Department of Criminal Justice
Christopher Carter, Deputy Director of Rehabilitation Programs Division
Texas Department of Housing and Community Affairs
Elizabeth Yevich, Director – Housing Resource Center
Texas Department of Insurance
Kenisha Schuster, Government Relations Specialist
Texas Department of Public Safety
Nim Kidd, Assistant Director – Emergency Management
Texas Education Agency
Joanna Warren, Governmental Relations Specialist
Texas Juvenile Justice Department
Preston Streufert, Director of Stakeholder Relations
Texas Veterans Commission
John L. Wilson, Community & Faith Based Partner Coordinator-Veteran Mental Health Department
Texas Workforce Commission
Tom McCarty, Director External Relations, Texas Workforce Commission