AmeriCorps Week is a special opportunity to celebrate the individuals, programs, and organizations that get things done and strengthen our communities through service. Join us in sharing the story of national service in Texas March 8-14, 2020. Here are a few ways that you can get involved, and be sure to check out the CNCS AmeriCorps Week webpage for even more ideas and resources.
Submit to our #DayoftheA Photo Contest
How do you wear your A? AmeriCorps members, alums, and AmeriCorps program staff are invited to send in their most creative photos featuring the AmeriCorps logo by Wednesday, March 11, at bit.ly/dayoftheaphoto.
Please note that ONLY photos submitted via this form will be considered, but submitters are highly encouraged to also post their photos on Facebook, Instagram, and other social media platforms with the hashtags #AmeriCorpsTX and #DayoftheA.
You are welcome to submit multiple photos for consideration.
Photos must have been taken within calendar year 2019 or 2020.
Photos will be judged on Impact, Creativity, Composition, and Storytelling.
Winners will be announced on Friday, March 13, and will receive AmeriCorps swag, a gift card, and recognition on OneStar social media.
Check out last year's photo contest winner!
Share stories of how impact has been #MadeinAmeriCorps
AmeriCorps changes lives — both for those who are served and those who are serving. On AmeriCorps Week, share a transformational story of how you or your community was #MadeInAmeriCorps on social media. Here are just a few easy ideas to get you started:
Share our 25 Years of AmeriCorps Alums video series! Three extraordinary Texans share how the lessons and skills learned during their AmeriCorps service had a lasting effect on their lives and careers and illustrate the enduring legacy of national service.
Interview an AmeriCorps member or alum on what inspired them about their service.
Share before and after shots of a community space transformed through service.
Post your favorite inspirational quote and explain how it influenced your approach to service.
Share a photo of a person you met during service and share how you inspired them — or how they inspired you.
Reminisce with your AmeriCorps teammates past and present and tag them in your #MadeInAmeriCorps posts.
Check out some sample social media messages and downloadable graphics here.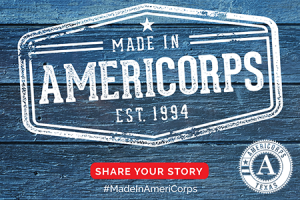 Click here to access AmeriCorps Week downloadable graphics.
Promote the impact of AmeriCorps in Texas
Last year more than 19,300 Americans of all ages and backgrounds met local needs, strengthened communities, and expanded economic opportunity through national service in Texas. AmeriCorps Week is the perfect opportunity to share the impact of those serving in Texas last year. Check out our Year in Review State Profile for an inspiring overview of how AmeriCorps has met community needs in Texas, and share a story of how you contributed to these impressive statistics.