WASHINGTON, DC – Mary Grace Landrum of Houston, a governor-appointed Commissioner who serves on the OneStar National Service Commission, was announced as the 2019 Outstanding Commissioner of the year last night at a reception held in the Washington, DC area. The award was presented to Landrum by America's Service Commissions (ASC) at the association's annual Innovation and Leadership Awards event as one of nine national awardees.
The awards program is held each year to recognize the leadership and accomplishments of state service commissions and their commissioners, staff, service programs, and legislative champions from across the United States and its territories.
Mary Grace Landrum was first appointed as a OneStar National Service Commissioner in 2011 and has since been re-appointed by two Governors. The Commission is part of OneStar Foundation, the governor's designated agency for overseeing federal AmeriCorps grants for the state of Texas along with other philanthropic and nonprofit efforts.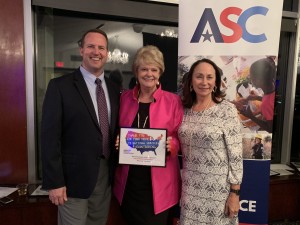 "Mary Grace Landrum truly exemplifies the Texan spirit of serving others and is the model of what it means to be a thoughtful and dedicated leader," said Elizabeth Darling, President/CEO of OneStar Foundation, who works closely with Landrum and other OneStar Commissioners. "There is no one more deserving of this award, and we are thrilled to see her passion and commitment to national and community service recognized at this level."
For the past seven years, Landrum has chaired OneStar's Program Advisory Committee, the first line approving body for AmeriCorps grants in the state of Texas. She is also a corporate consultant, former adjunct professor at the University of Houston, and a graduate of Leadership Houston. In addition to her OneStar service, Landrum served on the boards of One Voice Texas and the Spring Branch Education Foundation and was the executive director and facilitator for the West Houston Leadership Institute. Landrum has dedicated eight years of her time to advocate for AmeriCorps and Senior Corps programs, and consistently attends Texas AmeriCorps events, swearing in ceremonies, and program site visits. Landrum also helped spearhead the City of Houston's annual National Service Recognition Day celebration each April to thank national service volunteers for giving back to Texas communities. Mary Grace is also an active participate in the States for Service Public Policy Coalition to advocate for service and volunteerism at the local level.
2019 ASC Innovation & Leadership Award Recipients:
Friend of America's Service Commissions: Congressman Tom Cole (Oklahoma)
Friend of America's Service Commissions: Congresswoman Rosa DeLauro (Connecticut)
State Service Leadership Award: Governor Larry Hogan (Maryland)
ASC Honor Roll: Robert Shogren (Arizona)
Outstanding Commissioner: Mary Grace Landrum (Texas)
Outstanding Commission Executive Director: LaDawn Stoddard (Utah)
Outstanding Commission Staff: Stacey Scherschligt (Minnesota)
Outstanding Service Program: Metropolitan Ministries (Florida)
Outstanding Service Program Staff: Bridget Talebi (Washington)
"We're thrilled to recognize Mary Grace Landrum as Outstanding Commissioner," said Kaira Esgate, CEO of America's Service Commissions. "Her eight years of leadership with OneStar have benefitted not only Texas, but set an example nationwide for the greater AmeriCorps and state service commission network for what an outstanding Commissioner can accomplish."
###
OneStar Foundation was created to support the State of Texas by strengthening the nonprofit sector, encouraging civic engagement through service and volunteering, promoting innovative strategies to address local issues, and facilitating public-private partnerships to expand the reach of the sector. OneStar Foundation is the Governor-designated National Service Commission in Texas and administers the AmeriCorps State grant program. OneStar is also home to Texas' Faith-Based and Community Initiative. OneStar Foundation connects partners and resources to build a stronger nonprofit sector in Texas. Learn more at onestarfoundation.org.