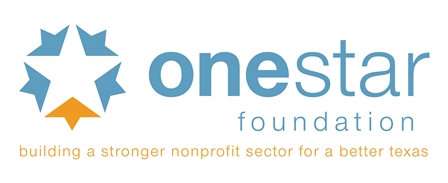 FOR IMMEDIATE RELEASE
CONTACT: Elizabeth Darling, 512.287.2062, liz@onestarfoundation.org
ONESTAR FOUNDATION ANNOUNCES 31st ANNUAL GOVERNOR'S VOLUNTEER AWARDS WINNERS
Winners from across the State to be recognized at an Austin ceremony
AUSTIN, TX – August 15, 2014 – OneStar Foundation is proud to announce the winners of the 31st Annual Governor's Volunteer Awards.
The winners are:
Governor's Lonestar Achievement Award – Virgil L. Teter, Jr. (Waco)
Virgil Teter is the inspiration behind "Food for Families", the largest one-day food drive in the State of Texas. This past year "Food for Families" provided food for 37 pantries in 9 counties throughout Central Texas and gathered more than 1.5 million pounds of food. In the past 24 years over 20,826,549 pounds of food has been collected. This event brings thousands of volunteers from dozens of communities together: schools, churches, civic groups, major businesses, military units on Fort Hood, even Texas Prison units in Gatesville compete with each other to see who can gather the largest amounts of food.
First Lady's Rising Star Award – Elise Clements (Denton)
Elise Clements volunteers her time with several organizations. She completed a yearlong project to earn her Girl Scout Silver Award by having a Texas Historical Commission Marker made for Miss Beulah Harriss, Denton's very first Girl Scout. Elise persuaded Mayor Mark Burroughs to proclaim 2/27/14 as Beulah Harriss Day. Girl Scouts can now earn a Beulah Harriss patch designed by Elise. Elise was also given permission by the Denton Parks Board to place a Beulah Harriss Texas Historical Marker in the Quakertown Park where the Girl Scout Little House once stood. Elise volunteers at least 100 hours each year and has received the Gold President's Volunteer Service Award for the last 3 years.
Community Leadership Award – Texas Master Naturalist Program (Kerrville) – tie for award
The Texas Master Naturalist Program (TMN) sponsored by Texas Parks and Wildlife Department and Texas A&M AgriLife Extension has trained over 8,850 Certified Master Naturalist Volunteers who have contributed over 2.4 million hours valued at more than $53.9 million to date impacting over 206,300 acres and over 1,866 miles of trails. Twenty new partnerships were developed by TMN chapters statewide in 2013 with over 370 partnerships established statewide. The Master Naturalist program has been so successful in Texas that it has been replicated in 29 other states.
Community Leadership Award – Heart of Texas RSVP (Waco) – tie for award
Heart of Texas RSVP provides support and services to over 75 nonprofits, schools, nursing homes, and citizens in their community. They work with students from McLennan Community College, Baylor University, Texas State Technical College and Tarleton University who directly assist community agencies with food drives, civic development, public safety and education. As a result of the explosion of the fertilizer plant last year in West, Texas, Heart of Texas RSVP provided over 10,075 man hours and supervised over 400 volunteers and continues to provide services still today to a recovering community.
Senior Corps Community Impact Award – Oscar Cole (Beaumont)
For 21 years, Oscar Cole, "Grandpa", has been volunteering his time as a Senior Corps Foster Grandparent with the youth at Boys Haven, Inc. which serves boys ages 5 to 17. Many come from single parent homes and will stay until they graduate high school. He has accumulated over 20,000 hours of service to these young men. Oscar also received the President's Volunteer Service Award. Boys Haven, Inc. recently announced they are adding an additional building to their campus. In recognition of the service and dedication "Grandpa" Oscar Cole has given to Boys Haven the new building will be named the "Grandpa Cole Education Complex" in honor of Mr. Cole.
AmeriCorps "Make a Difference" – Katherine Martin (Dallas)
AmeriCorps member, Katie Martin, served as the inaugural Site Coordinator at Charles Rice Learning Center, a new partner for Reading Partners Dallas and built one of their most successful school sites in Dallas. Due to Katie's great work ethic, professionalism, and individualized approach with teachers and volunteers, over 90% of all enrolled students narrowed their achievement gap while in the program. Katie also attained a new partner in Zeta Phi Beta Sorority which led to increased volunteer numbers bringing the Reading Center to capacity for students and tutors. In addition, she organized for the Reading Partners Dallas team to serve at a "9/11 Day of Service" event.
"The individuals and organizations honored through the 31st Annual Governor's Volunteer Awards have truly gone above and beyond to help their fellow Texans in times of need," said Elizabeth Darling, President and CEO of OneStar Foundation. "They are stellar examples of the good that can be found in all of us when we become engaged in solutions to social challenges."
The winners will be honored at a ceremony on September 17, 2014, in Austin with their invited guests and the OneStar Foundation Board.
###
OneStar Foundation was created to support the State of Texas by strengthening the nonprofit sector, encouraging civic engagement through service and volunteering, promoting innovative strategies to address local issues and facilitating public-private partnerships to expand the reach of the sector. For more information, visit onestarfoundation.org.
— end —