The Monitor, a Texas regional newspaper dedicated to covering news in the Rio Grande Valley, recently published an Op-Ed co-authored by OneStar President/CEO Elizabeth Darling and Teach for America-Rio Grande Valley Executive Director Robert Carreon.
See the original publication at http://www.themonitor.com/opinion/columnists/article_00033058-9b5d-11e3-b0bd-001a4bcf6878.html.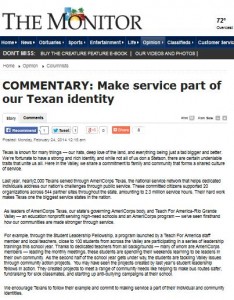 Posted: Monday, February 24, 2014 12:15 am
Texas is known for many things — our hats, deep love of the land, and everything being just a tad bigger and better. We're fortunate to have a strong and rich identity, and while not all of us don a Stetson, there are certain undeniable traits that unite us all. Here in the Valley, we share a commitment to family and community that forms a shared culture of service.
Last year, nearly2,000 Texans served through AmeriCorps Texas, the national service network that helps dedicated individuals address our nation's challenges through public service. These committed citizens supported 20 organizations across 544 partner sites throughout the state, amounting to 2.3 million service hours. Their hard work makes Texas one the biggest service states in the nation.
As leaders of AmeriCorps Texas, our state's governing AmeriCorps body, and Teach For America-Rio Grande Valley — an education nonprofit serving high-need schools and an AmeriCorps program — we've seen firsthand how our communities are made stronger through service.
For example, through the Student Leadership Fellowship, a program launched by a Teach For America staff member and local teachers, close to 100 students from across the Valley are participating in a series of leadership trainings this school year. Thanks to dedicated teachers from all backgrounds — many of whom are AmeriCorps members — leading the monthly meetings, these students are spending their weekends learning to be leaders in their own community. As the second half of the school year gets under way, the students are tackling Valley issues through community action projects. You may have seen the projects created by last year's student leadership fellows in action. They created projects to meet a range of community needs like helping to make bus routes safer, fundraising for sick classmates, and starting up anti-bullying campaigns at their school.
We encourage Texans to follow their example and commit to making service a part of their individual and community identities.
We have an incredible foundation to build on — yet there's so much more to be done. Here in the Valley, 37 percent of residents live below the poverty level, compared to 14 percent nationwide. Our communities face the complex challenges that accompany poverty — impacting education, health, and economic opportunity.
While our schools have made commendable progress increasing graduation rates in the past several years, students who graduate from our high schools are consistently under-performing their peers across the state and nation on measures of college readiness, contributing to only 13 percent of residents who are 25 and older holding a college degree. Unemployment hovers around 10 percent. South Texas rates of obesity and diabetes surpass the Texas and national averages.
Community organizations like Valley Interfaith, Habitat for Humanity and the Llano Grande Center are working to combat these issues. By expanding opportunities and improving outcomes, they are helping to build stronger, healthier communities. We have made great strides but have more work before us. We must harness the energy and ingenuity of our state's most valuable resource — our citizens. A recent Columbia University study finds that every dollar invested in national service brings a return of $3.95 in terms of higher earnings, increased economic activity, and other community-wide benefits. Investing in service today will make for a stronger Texas tomorrow.
At Teach For America our teachers leading high-need classrooms proudly fly their service flags. As members of AmeriCorps, they post signs indicating their service affiliation in their classrooms, and wear the AmeriCorps logo on their school IDs. These small symbols play a large part in teaching the next generation about the importance of service to empowering our communities
As AmeriCorps celebrates its 20th anniversary, we're proud that so many Texans have answered the call to service. From students to teachers, from first-time volunteers to those who consider giving back a full time job — we all have the ability to help Texas be its best. Try service on as part of your growing identity. We think it will be a great fit.
Robert Carreon is executive director of Teach For America-Rio Grande Valley. Elizabeth Darling is CEO and president of OneStar National Service Commission.