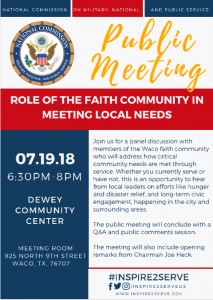 Join the National Commission on Military, National, and Public Service for a public meeting in Waco, TX on Thursday, July 19 from 6:30pm to 8:00pm at the Dewey Community Center. The meeting will feature a panel discussion with members of the faith community in Waco who will address how critical community needs are met through service. Liz Darling, CEO at OneStar Foundation will be a speaker and member of the panel. Whether you currently serve or have not, this is an opportunity to hear from local leaders on the efforts happening in the city and surrounding areas. The public meeting will conclude with a Q&A and public comments session where the audience will be able to address the panel on how the faith community can help meet needs, such as hunger and disaster relief, and long-term civic engagement. Audience members can also share any ideas and thoughts related to the Commission's mandate.
To RSVP, please visit http://bit.ly/Inspire2ServeWaco
This event is OPEN press. Media interested in attending should RSVP to media@inspire2serve.gov.