FOR IMMEDIATE RELEASE
DATE: March 11, 2013
CONTACT: Elizabeth Darling, 512-287-2062, liz@onestarfoundation.org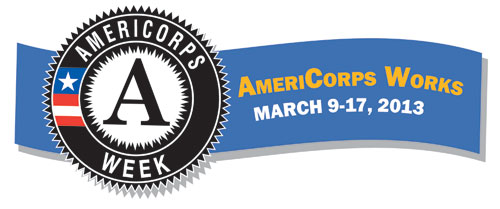 AUSTIN, TX — OneStar Foundation and the State of Texas will join the nationwide celebration of AmeriCorps Week, March 9-17, spotlighting the vital work done by AmeriCorps members in communities across Texas since the national service program began 19 years ago.
More than 4,300 AmeriCorps members are serving in Texas this year, helping students learn to read, mentoring at-risk youth, providing health services, building homes for low-income families, and helping nonprofits recruit volunteers and achieve their mission.
"We are proud to be part of AmeriCorps and grateful for the AmeriCorps members who are getting things done for Texas," said Elizabeth Darling, President/CEO of the OneStar Foundation, which serves as Texas' National Service Commission, administering between $8-12 million in AmeriCorps*State grants to nonprofits each year.  "AmeriCorps members have made a significant impact on Texas' ability to meet so many local needs, and AmeriCorps Week is a perfect opportunity to recognize their great work."
Since 1994, more than 800,000 Americans have given more than 1 billion hours of service through AmeriCorps.  Every year, more than 75,000 AmeriCorps members meet pressing community needs across the country. Serving at more 15,000 locations nationwide, AmeriCorps members recruited and managed more than four million volunteers last year, boosting the impact of the nonprofit and faith-based organizations they serve.
View the Governor's Proclamation of AmeriCorps Week 2013 for Texas here.
To mark AmeriCorps Week, a number of events are happening around the state both this week and throughout the spring, including:
Austin – Austin area AmeriCorps programs will host a series of events next month for Austin AmeriCorps Awareness Week from April 21-27th, including a HOPE Farmer's Market booth, a Boys and Girls Club Basketball Tournament, an AmeriCorps Alums happy hour, AmeriCorps trivia night, and a Day of Service Rally at City Hall and Greenbelt Beautification Project. For more information, visit www.austinamericorpsweek.com.
Dallas-Fort Worth – AmeriCorps members and AmeriCorps Alums of North Texas are invited to attend service projects and events all week, including an Audubon service project on the Trinity River on Saturday, March 9th, a "show your pride" t-shirt visibility campaign on Sunday the 10th, and several virtual events such as social media chats, advice sharing for the next generation, storytelling, photo/video swaps, and an "everything is bigger in Texas" impact discussion! Click here for details or to sign up.
El Paso – AVANCE-El Paso will host AmeriCorps Week festivities all week, including a mural painting project on March 9th in collaboration with UTEP's Project Move, as well as a county proclamation on March 11th, a city proclamation on March 12th, and bilingual English/Spanish civic reflection discussion March 13th & 14th.
Houston – In honor of AmeriCorps Week, the City of Houston's AmeriCorps*VISTA project will be helping out at the City Hall Farmer's Market on Wednesday the 13th along with the Mayor as well as volunteering at Tour de Houston on March 17th. Other Houston area AmeriCorps members and programs will celebrate Houston AmeriCorps Awareness Week later in the spring from May 13-17th. Events will include conducting information sessions at local universities, a networking event for current members, and online guest blogging throughout the week.
Rio Grande Valley – Teach for America-Rio Grande Valley will be celebrating Teach for America Week from March 18-22 by hosting guest politicians and community leaders in Corps members' classrooms. Guests will include KRGV-ABC, Representatives Oscar Longoria and Rene Oliviera, Congressman Henry Cuellar, Greta Krumenacker, Investment Associate Officer, Raza Development Fund, and Susan Valverde, Executive Director, Sylvan Learning Center.
San Antonio – San Antonio Youth will host and AmeriCorps speed dating where individuals will get to "date" an AmeriCorps program to determine their interests, best fit programs, and future participation. City Year-San Antonio will celebrate AmeriCorps Week by engaging AmeriCorps members as volunteers at their Spring Break Camps the week of March 11-14. The camps are a partnership with Department of Education, Department of Justice, Department of Health and Human Services, and Housing and Urban Development, and will include leadership development activities for students and will highlight AmeriCorps' impact.
These events will allow Texas residents to learn about AmeriCorps impact in Texas while also providing opportunities for current members and alums to stay connected.
"AmeriCorps members are improving the lives of millions of citizens and making a powerful impact on the toughest challenges facing our nation," said Wendy Spencer, CEO of the Corporation for National and Community Service, the federal agency that administers AmeriCorps. "AmeriCorps Week is an opportunity to recognize their impact and thank them for their service.  AmeriCorps members and the millions of volunteers they manage are an indispensable resource to our nation, and we are grateful for their dedicated service."
AmeriCorps members typically remain actively engaged in their communities long after their service is complete. An AmeriCorps longitudinal study found that AmeriCorps alums are more attached to their communities, aware of community challenges, and significantly more likely to go into public service careers.
AmeriCorps Week is an annual event designed to salute AmeriCorps members and alums for their service, thank AmeriCorps' community partners, and recognize AmeriCorps' impact on communities and on the lives of those who serve.  Hundreds of events are taking place across the United States – service projects, recruitment fairs, school presentations, alumni gatherings, awards ceremonies, and more.  For more information, visit http://onestarfoundation.org/americorpstexas/americorps-week/ or  AmeriCorpsWeek.gov.
###
OneStar Foundation is the Governor-designated National Service Commission in Texas and administers the AmeriCorps*State grant program. The Governor-appointed Board members oversee the legal and policy governance of the AmeriCorps*Texas program portfolio. OneStar Foundation connects partners and resources to build a stronger nonprofit sector in Texas. For more information, visit onestarfoundation.org.
AmeriCorps is a national service program administered by the Corporation for National and Community Service, a federal agency that engages more than five million Americans in service through Senior Corps, AmeriCorps, the Social Innovation Fund, and the Volunteer Generation Fund, and leads President Barack Obama's national call to service initiative, United We Serve. For more information, visit NationalService.gov.
— end —