Responding to COVID-19 in Texas: How You Can Serve
During times of crisis, the Texan spirit of service compels us to roll up our sleeves and take action. As we respond as a community to the novel coronavirus (COVID-19) outbreak, here are a few ways you can make a difference and support your fellow neighbors. You can also download and share (PDF | PNG) this list with your networks.
We urge volunteers to screen themselves for COVID-19 per CDC guidelines before volunteering/serving and to comply with all local mandates and guidance.
Prevent the spread of COVID-19
The most important thing you can do for your community during this time is follow the guidance issued by the Texas Department of State Health Services, the U.S. Centers for Disease Control, and your local public health agency to prevent the spread of COVID-19. We can best keep each other safe and healthy by following basic guidelines, including limiting close human contact, avoiding public gatherings, washing hands thoroughly, refraining from touching your face, cleaning and disinfecting surfaces, covering your mouth when coughing/sneezing, and staying home if you feel unwell.
Check in on your friends and neighbors
Demonstrate concern and compassion to those in our community by conducting virtual wellness checks on your friends and neighbors, especially those who are elderly or isolated in their homes. With today's technology, there are many ways to stay in touch and help each other cope with the stresses of this event—through calls, texts, video chats, or even through a closed door or window. Please refrain from in-person visitations, especially to nursing homes, senior centers, hospitals, and other sites with highly vulnerable populations.
If you know of households in need of basic needs assistance or other social services, please direct them to dial 2-1-1 to get connected to community resources in their immediate area.
Donate to nonprofits
According to the Built for Texas report, the nonprofit sector provides critical services and support to vulnerable populations, fosters cross-sector collaborations, and drives social innovation—roles that are more critical than ever in times of crisis. In the wake of the COVID-19 response, many nonprofits have had to cancel vital fundraising events and are bracing for a potential decline in charitable donations, which will make it challenging for them to achieve their missions. You can help build your community's resilience by giving to OneStar's Texas COVID Relief Fund and financially supporting local nonprofits.
Explore remote volunteering opportunities
Limiting human contact may require you to get creative when it comes to giving your time and skills to nonprofits. Platforms like All for Good, VolunteerMatch, and GivePulse allow you to search for virtual service opportunities that you can fulfill from anywhere. And if you are already working from home, TaprootPlus and Catchafire connect skilled professionals with nonprofits to remotely advise and assist with projects in marketing, technology, management, finance, and other capacity-building functions.
Serve with the Texas Medical Reserve Corps
Texas Medical Reserve Corps is recruting community-based volunteers—medical and public health professional and others—to help strengthen public health, emergency response, and community resiliency. These volunteers donate their time and expertise to prepare for and respond to emergencies like the coronavirus pandemic and promote healthy living throughout the year. Find your nearest Medical Reserve Corps unit and contact the coordinator to learn about your area's specific needs and how to get involved.
Support your local food bank
Food banks across the state are anticipating a rise in demand as the economic impact of the coronavirus mounts and high demand at grocery stores strains food supplies. Consider donating to your local food bank: financial contributions are preferred, but if you would like to give food, contact the organization in advance to determine what items they are able to accept at this time and how to safely drop off your donation.
Many food banks are also responding to COVID-19 by by sorting, packing, and delivering emergency kits to households facing food insecurity, and volunteers are needed to assist these efforts. If you are interested in volunteering, contact the organization in advance to identify specific needs and assess the safety measures in place for volunteers before you go, and do NOT volunteer in person if you are feeling unwell.
You can find a local food bank serving your community at Feeding Texas.
Deliver meals
You can help ensure vulnerable populations who are isolated or quarantined feel safe and cared for by delivering meals and supplies to their doors. Contact your local Meals on Wheels organization to learn about delivery opportunities, or find a school meal provider near you to find out if you can get involved in student free meal distribution programs. If you are interested in volunteering, contact the organization in advance to identify specific needs and assess the safety measures in place for volunteers before you go, and do NOT volunteer in person if you are feeling unwell.
Donate supplies to local healthcare providers
Healthcare workers on the front lines of the coronavirus response are in need of personal protective equipment and cleaning supplies, such as new N95 face masks and surgical masks, latex-free gloves, soap, hand sanitizer, and disinfectant wipes. Contact your city or local public health agency to check what items can be accepted and where to give.
Donate blood
American Red Cross and local health agencies have warned of severe blood shortages following the cancellations of blood drives during the coronavirus outbreak. Healthy, eligible donors are encouraged to give blood now to avoid another health crisis and ensure a lifesaving supply is available to those who need it most. Donating blood is a safe process, and there no evidence that COVID-19 can be transmitted by blood transfusion. Contact your local blood bank or visit the American Red Cross to find a blood drive near you.
Texas Needs Supplies, Services and Equipment
The State of Texas is seeking critical equipment and capacity for medical providers, such as personal protective equipment (PPE), alternate care sites, and infection-control products. If you have products, sites, or equipment available for the state to consider procuring, please click the appropriate links below.
Texas Needs Medical Volunteers
If you are an active or retired health care provider or a medical or nursing student and have availability to provide services, please complete the respective form below. The information provided will be supplied directly to the Texas Department of State Health Services.
ACTIVE OR RETIRED HEALTHCARE PROVIDER
MEDICAL OR NURSING STUDENT
---
General Resources for Volunteers
Please visit the following federal, state, and local sources for the most accurate and up-to-date information, guidance, and resources:
OneStar encourages all Texans in need of COVID-19 information and referrals to community resources to use the 2-1-1 Texas hotline 24 hours a day, 7 days a week. Texans, no matter where they live, can dial 2-1-1 and select menu option 6 to get information and referrals to COVID-19 social services, including testing, community clinics, unemployment benefits, and more.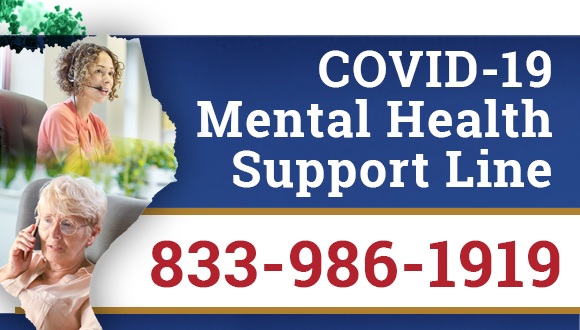 If you or someone you know is feeling overwhelmed by the COVID-19 pandemic, help is available! Speak with a mental health professional for help dealing with anxiety, depression, stress, grief or worry 24/7. Call the toll-free COVID-19 Mental Health Support Line at 833-986-1919. DOWNLOAD THE FLYER
Si usted o alguien que conoce se sienten abrumados por la pandemia del COVID-19, pueden recibir ayuda. Comuníquese con un profesional de la salud mental para pedir ayuda con la ansiedad, la depresión, el estrés, la pena o la reocupación las 24 horas del día, los 7 días de la semana. Llame gratis a la Línea de apoyo del COVID-19 para la salud mental al 833-986-1919. DESCARGA EL DOCUMENTO
---
For Nonprofits
Pleasse visit our resource page for Texas nonprofits responding to Coronavirus (COVID-19) at txnonprofits.org/coronavirus.
If you are an AmeriCorps Texas program, please check out the guidance and resources provided by the OneStar team for AmeriCorps grantees.