"We are constantly reassuring students that everything is going to be okay, but also being super honest that we don't know where things are going. It's best to keep them task-oriented."
Calep Smith
AmeriCorps adviser at Madison High School
Advise TX College Advising Corps at The University of Texas at Austin
---
When school closures were announced last month in response to COVID-19, the Advise TX College Advising Corps at The University of Texas at Austin sprang into action to ensure they could continue providing support to high school students throughout Texas. College Advising Corps engages recent college graduates as AmeriCorps members to provide on-campus mentorship and training to low-income, underrepresented, and first-generation students pursuing higher education.
"Because this organization was already equipped with the infrastructure to deal with a situation like this, it has been amazing to see all the resources that have been immediately made available to advisers to provide uninterrupted service to the student body," said Cheryl Sawyer, Advise TX Program Director. "Whether we are physically present or not, our impact is felt, and the students that we serve are not missing a beat in getting the support that they need."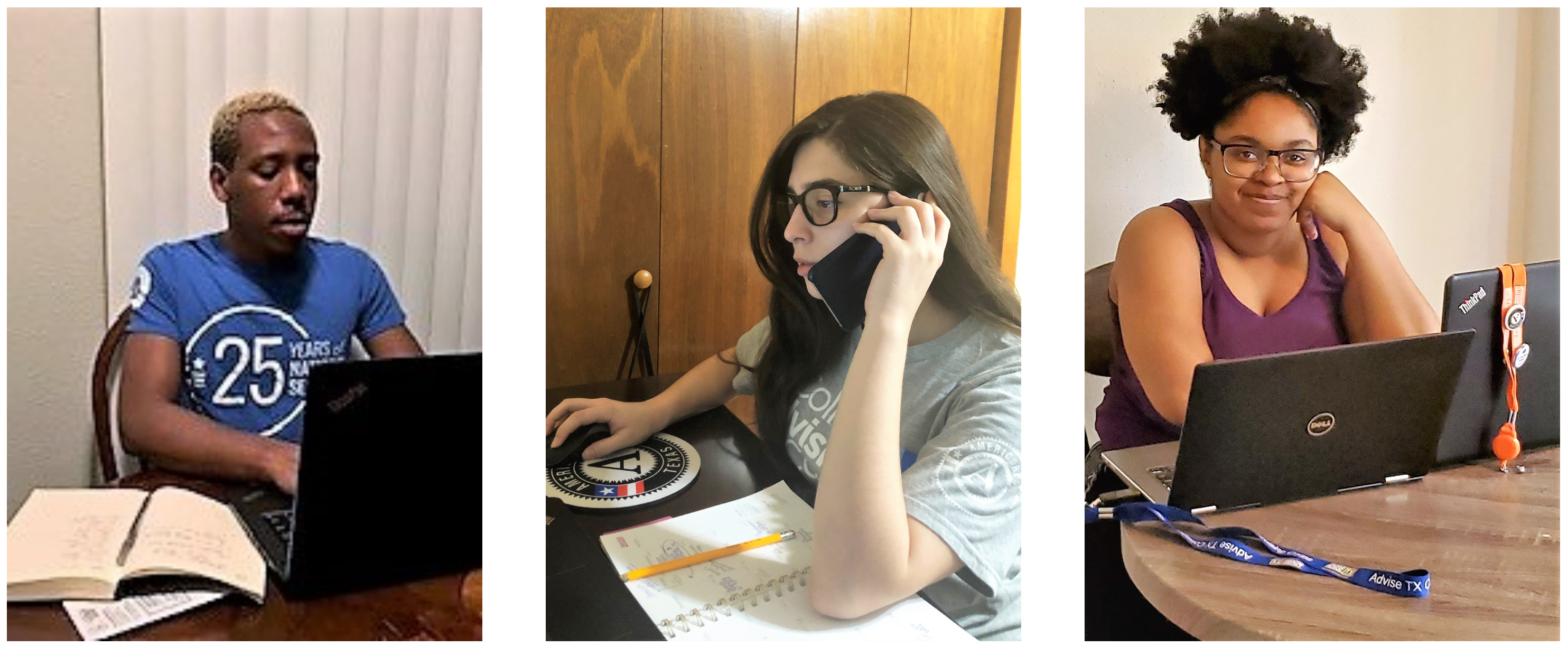 The transition to virtual advising sessions has been smooth and intuitive for the program, which employs e-mail, text messaging, social media, and online conferencing tools to sustain its efforts. For students who lacked access to technology, AmeriCorps members have worked directly with schools to assist in finding ways to connect with students and keep them on track in their post-high school graduation plans.
To fill the gap in resources typically accessible on campus, several AmeriCorps members affiliated with Advise TX College Advising Corps have created and launched a virtual Go Center, an online portal high school students can visit to learn about college admissions, financial aid, and post-graduation options. The robust website has links to customized content for all 23 Texas high schools served by College Advising Corps at the UT program.
"It's a tool that advisers can use to help guide their students if they are still hesitant or may not understand certain steps," said Alexis Maxie, an AmeriCorps member who helped develop the project. "It combines a lot of outside resources so that students don't have to look too hard to find the help that they need."
The deeper challenge for AmeriCorps advisers has been coaching students through the anxiety and ambiguity of applying for college and financial aid in the midst of a global pandemic. The already-complex process has been further complicated by shifting deadlines and office closures—which add new barriers to securing required documents like transcripts, recommendation letters, and vaccination records. With many school districts announcing indefinite closures, some students are struggling to adapt to online coursework for the first time, and many are wondering about the logistics of graduation. Others who have already been granted college admission are disappointed and nervous about missing the critical campus orientation this summer.
In the midst of this uncertainty, AmeriCorps members have taken on the role of keeping students focused on their goals and identifying resources to keep them moving forward one step at a time.
"We are constantly reassuring them that everything is going to be okay, but also being super honest that we don't know where things are going," said AmeriCorps adviser Calep Smith, who serves at Madison High School in Houston. "It's best to keep them task-oriented."
Last week, Zachary Torres, an AmeriCorps adviser serving with Americas High School in El Paso, coached one student through the daunting process of choosing a college to attend. When the student expressed her intense anxiety around not being able to get in contact with admissions offices, Torres was able to secure a virtual online meeting with representatives from The University of Texas at Austin—who announced that the student would be receiving a full scholarship and helped finalize her decision.
"She has been messaging me daily trying to figure out things," Torres said. "At the end of day, she is going to be able to attend her dream university. She has everything paid for, so that takes a worry off the shoulders of her and her parents. I think it has become a lot easier for her now to get through her days without stressing as much."
AmeriCorps adviser Devany Cantu, who serves at PSJA Early College High School in the Rio Grande Valley, worked closely with one student who was distressed about the cancellation of his ACT admissions exam, which is a requirement for transferring from a community college to a university. Cantu set up a FaceTime meeting and walked the student step-by-step through the online process of rescheduling the test.
"Students are already worrying about so many other things that sometimes even simple tasks can feel impossible," Cantu said. "I just let them know like I'm here every step of the way."
AmeriCorps members are constantly reminding students that despite the physical separation caused by the coronavirus, they are always accessible and available to provide support and guidance. Perhaps more than ever, advisers are gaining a deeper understanding of students' lives as they navigate responsibilities at home and work and are forced to open up about their stresses and concerns.
"I am the oldest child and a first-generation college student. I had to do everything on my own. Watching the news and the changes that have been happening, I feel empathy for the student who may not have anyone," Cantu said. "'I am my students.' I say that all that time. I have cried I don't know how many times thinking about them and wondering if we are doing enough, and I am dedicated to them one hundred percent.