"I personally never thought I was considered an essential employee until this all unfolded, and I was told my service was needed now more than ever."
Sarah Flores
Parents as Teachers AmeriCorps member
United Way of El Paso County
---
Parenting can be a challenge even in the best of times. To support struggling families, United Way of El Paso County (UWEPC) offers Parents as Teachers, a home visitation program that fosters positive interactions between parents and their young children, with an ultimate goal of promoting kindergarten readiness and long-term education success. AmeriCorps members work alongside families in their own homes to assess basic household needs and provide training and activities to ensure developmental milestones are achieved.
But when social distancing measures were announced in El Paso last month in response to the coronavirus, the team had to adapt. When possible, curriculum has been revised for online delivery, and AmeriCorps members use video conferencing tools to continue conducting interactive lessons with families. To ensure parents have materials to keep their children engaged and learning, members have been packing activity kits with coloring books and art supplies and dropping them off at individual homes.
But beyond the instruction and skill-building that parents receive, even the simple routine of virtually checking in and being available as outlet for social interaction has been a gift in itself. AmeriCorps members give many families a link to the outside world and friendly place to turn for support and assistance.
"That's something that we definitely always try to be cognizant of, but especially more so now with everyone being confined to their homes," said Christina Lamour, UWEPC Vice President of Community Impact. "It is starting to be stressful for everybody for different reasons, and so we are looking at various ways to ease that stress and make sure our families feel supported."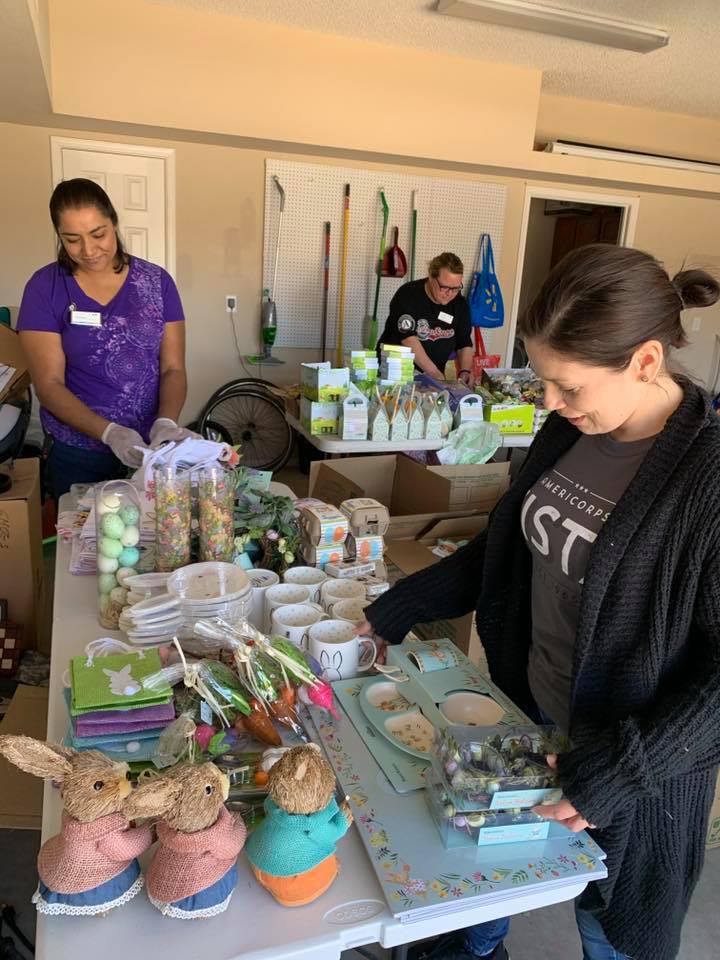 For instance, when retailer World Market donated its inventory of Easter candy and decorations to UWEPC after local business closures were announced, AmeriCorps members led the effort to carefully distribute the spring-themed treats into care packages that were delivered to about 150 families. The gesture brought some much-needed holiday cheer to children throughout the community.
"I'm without words," said one parent, who is caring for three children under the age of 5. "This has been a tough time and you've made this better than ever."
As local families endure the strain of the coronavirus and its societal effects, the vital necessity of supporting the family unit as a whole has emerged as a clear priority. UWEPC's programs are constructed to address the focus areas of education, health, basic needs, and financial stability—issues that are more intertwined than ever as many families struggle to parent while also coping with potential layoffs, furloughs, and other economic hardships.
To address these interdependent needs, AmeriCorps has pivoted to expand service to new audiences within UWEPC. AmeriCorps have become a vital source of volunteers to pack groceries at local food banks and pantries. In addition, they assemble and deliver care kits containing cleaning supplies and toiletries to homebound senior citizens.
"We are now facing unchartered waters with the pandemic of COVID-19. Each and every member has stepped up beyond what we already do in order to continue to service our families during these uncertain times," said Sarah Flores, a Parents as Teachers AmeriCorps member. "I personally never thought I was considered an essential employee until this all unfolded, and I was told my service was needed now more than ever."
As UWEPC determines its next steps during these unprecedented times, national service proving to be a valuable asset for filling the gaps in service. While their commitment remains to promote school readiness among young children, the definition of what that entails and the role AmeriCorps members play in supporting El Paso families continues to expand and evolve in new and exciting ways.
"Their heart is in it, and they are willing to do what is needed to be done," Lamour said. "Our AmeriCorps members are really great at what they do, and you can tell from the way that they interact with folks that that they're really passionate about the work that they're doing."