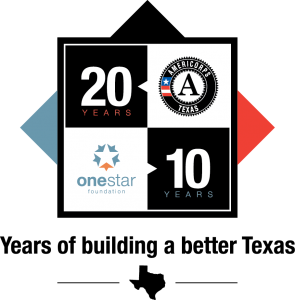 FOR IMMEDIATE DISTRIBUTION
OneStar Foundation Celebrates 10 Years of Service;
Hosts Largest Swearing-In Ceremony in Texas History as Part of Nationwide AmeriCorps 20th Anniversary
Pledge Ceremony Kicks Off New AmeriCorps Class
Austin, Texas – September 12, 2014 – Today, a new class of Texas AmeriCorps members will pledge to "get things done for America" as part of a nationwide ceremony to mark AmeriCorps' 20th Anniversary (#americorps20). This year's ceremony is an extra-special milestone, as it also celebrates the 10th Anniversary of Texas' state service commission for AmeriCorps, OneStar Foundation. OneStar will host the event – the largest of its kind in Texas history – on Friday, September 12, 9:30 a.m.-11:30 a.m. at the University of Texas at Austin's historic Lyndon B. Johnson Auditorium and Presidential Library and Museum.
"For the past ten years, OneStar Foundation has been promoting service and volunteering across the state, awarding millions annually to nonprofit organizations who are making a difference in our community to help build a better Texas," said Elizabeth Darling, President and CEO of OneStar Foundation. "We are proud to celebrate the extraordinary accomplishments of Texas' AmeriCorps members in tandem with AmeriCorps's 20th anniversary and are thrilled to welcome this new class as they embark on a year of service for greater impact and growth for their communities."
Rosie Mauk, former national Director of AmeriCorps and Associate Director of Peace Corps, will lead the AmeriCorps pledge ceremony in Austin that kicks off a year of national service for more than 4,500 AmeriCorps members in Texas. The Austin celebration will be part of a nationwide event featuring the simultaneous swearing-in of AmeriCorps members and alums taking place in every state. The event will highlight the commitment and impact of AmeriCorps members and alums over the past 20 years and showcase how AmeriCorps has grown through innovative public-private partnerships that meet critical community needs and expand opportunity for those who serve.
With more than 1,000 people expected to attend, the event in Austin will be emceed by Taylor Ellison, a former OneStar Youth Commissioner, AmeriCorps Alum, an Austin area lifestyle & entertainment reporter. The event will also feature prominent spokespeople including:
Mark Updegrove, LBJ Presidential Library Director
Randi Shade, Founding Executive Director, Texas Commission on Volunteering & Community Service/former Austin City Council Member
Rosie Mauk, Former Director of AmeriCorps
Dan Rather, in absentia, is providing a video message that will be aired at the event
Neil Bush, in absentia, is providing a video message that will be aired at the event
Governor Perry, in absentia, is providing a video message that will be aired at the event
and many more!
President Obama – who will also be joined by former Presidents Bill Clinton and George H.W. Bush – will lead the nationwide ceremony and give remarks to AmeriCorps members from the White House, which will be live streamed by the Corporation for National and Community Service in Washington, D.C. and other state commissions across the country to celebrate 20 years of inspiring Americans to be involved in what is the country's best example of civic engagement, collaboration, and problem solving. In absentia, former President George W. Bush and First Lady Laura Bush will provide a video message for the national event. Those not able to attend can tune in to the live stream at http://www.whitehouse.gov/live from 9:30-11:00am CT.
Then, at 10:30 am CST, AmeriCorps members from coast to coast will take the AmeriCorps pledge, launching a new service year for more than 75,000 AmeriCorps members.
"AmeriCorps members make a powerful impact on the toughest challenges facing our nation," said Wendy Spencer, CEO of the Corporation for National Service, the federal agency that administers AmeriCorps. "Building on Texas' strong tradition of neighbor helping neighbor, AmeriCorps members have improved countless lives across Texas over the past 20 years.  AmeriCorps has become an indispensable solution for America's communities."
President Obama's participation in the nationwide ceremony underscores the long history of bipartisan presidential support for AmeriCorps, from President George H.W. Bush signing the first national service legislation in 1990, to President Clinton creating AmeriCorps in 1993, to President George W. Bush increasing AmeriCorps by 50 percent after the September 11th attacks.
AmeriCorps' Role in Texas
Since 1994, more than 46,265 Texas residents have served in AmeriCorps, providing more than 61,114,400 hours of service. They have earned education scholarships totaling more than $129,885,900 to help pay for college or pay back student loans and made vital contributions in the fields of Education, Environment, Disaster Services, Health, Nonprofit Capacity Building and more.
Whether through mentoring students so they can stay on grade level or helping young people gain access to post-secondary education, AmeriCorps members have made a difference in the lives of Texas youth. AmeriCorps members have also helped communities recover more quickly from disaster as they did after Bastrop wildfire, Central Texas Halloween Floods and following the devastating explosion in the town of West. AmeriCorps members have also played a significant role in safeguarding Texas' natural resources working hand-in-hand with our Texas Parks and Wildlife Department. AmeriCorps is making a significant contribution to the quality of life for all Texans.
In addition to the statewide event in Austin, several cities throughout Texas will be hosting local events to honor new AmeriCorps members. Cities include Amarillo, Dallas-Fort Worth, Houston, El Paso, Rio Grande Valley, San Antonio and Waco. For more information about these localized events, please visit http://onestarfoundation.org/americorpstexas/americorps-20th-onestar-10th-anniversary/.
About OneStar Foundation
OneStar Foundation was created to support the State of Texas by strengthening the nonprofit sector, encouraging civic engagement through service and volunteering, promoting innovative strategies to address local issues and facilitating public-private partnerships to expand the reach of the sector.  For more information, visit onestarfoundation.org.
About AmeriCorps
Nationally, AmeriCorps members serve at more than 25,000 locations from coast to coast, strengthening education, providing disaster services, fostering economic opportunity, assisting veterans and military families, preserving the environment, and expanding health services.  While they serve others, AmeriCorps members expand opportunity for themselves – gaining skills, experience, and education support to help jumpstart their careers.  Since 1994, AmeriCorps members have earned more than $2.7 billion in education awards to help pay for college or repay their student loans.
AmeriCorps is administered by the Corporation for National and Community Service, a federal agency that engages more than five million Americans in service through AmeriCorps, Senior Corps, the Social Innovation Fund, and the Volunteer Generation Fund, and leads the President's national call to service initiative, United We Serve. For more information, visit NationalService.gov.
Media Contact
Jamie Camargo
Motive Communications for OneStar Foundation
512.296.9611
jamie@motive-communications.com
###