As 2019 draws to a close, OneStar reflects on 10 notable highlights from the past year. We are so grateful for our wonderful partners who are committed to promoting service and volunteering in Texas and are proud of everything we have accomplished together. We look forward to seeing how the seeds we planted this year strengthen our communities in the new decade!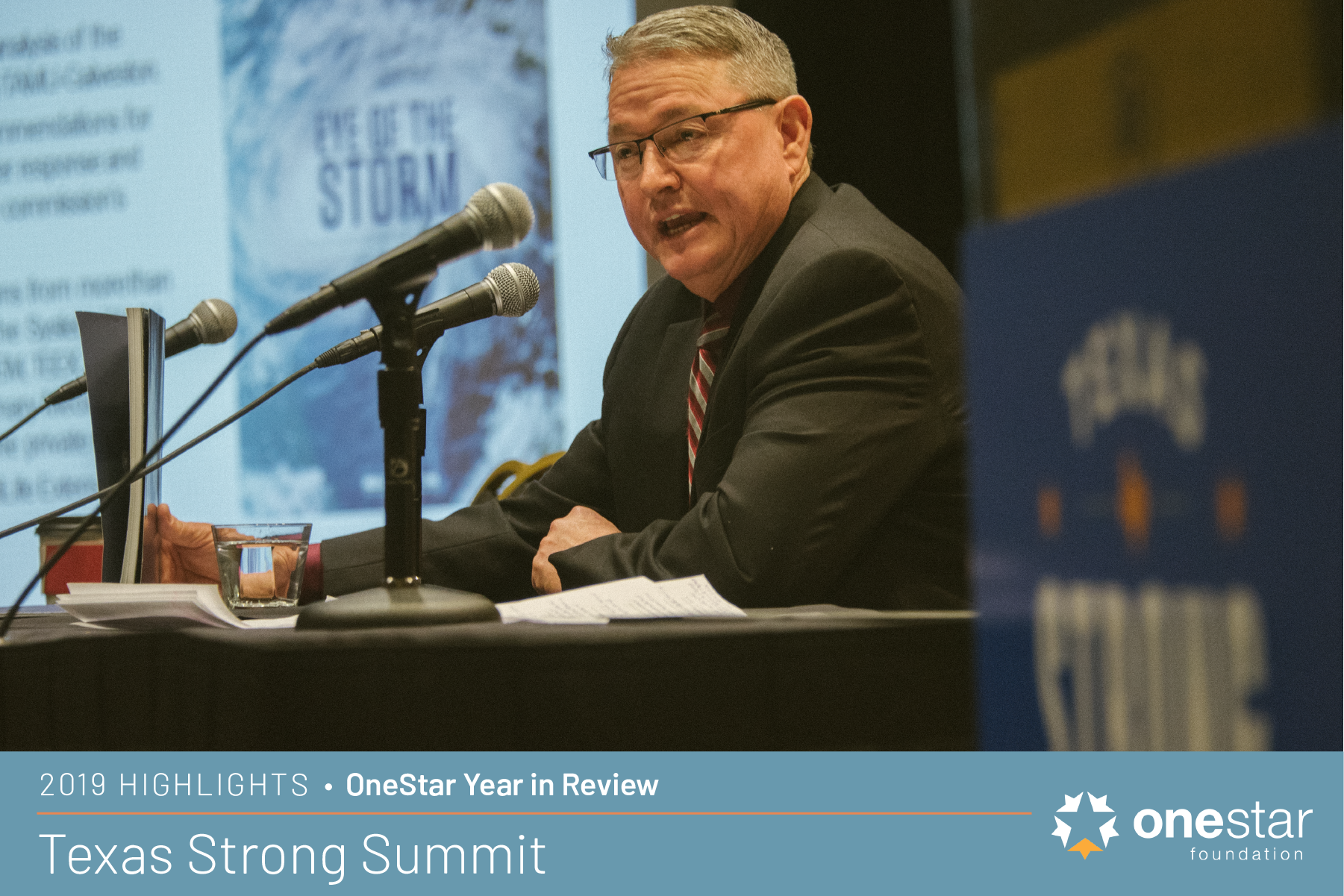 1. Texas Strong Summit
In January, OneStar launched the inaugural Texas Strong Summit, which brought together nearly 200 partners from the local, state, and federal levels to explore creative, community-based solutions for dealing with post-disaster resource constraints. We engaged representatives from Long-Term Recovery Groups, community and voluntary organizations, and government officials across Texas in highly interactive discussions and group simulations, which attendees described as "enlightening" and "great networking" opportunities.
Click here to download the presentations, materials, and resources from the Texas Strong Summit.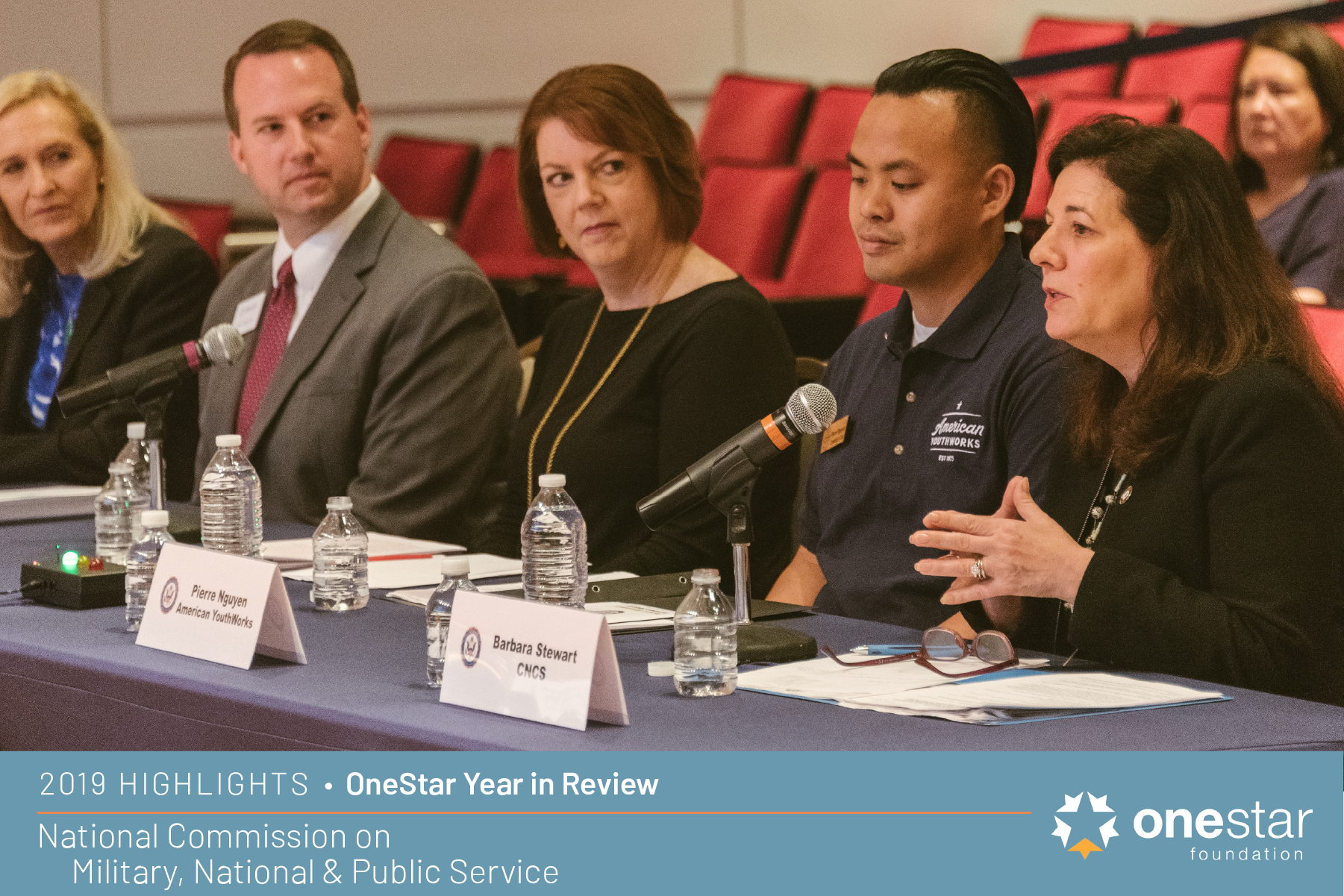 2. National Commission for Military, National & Public Service
In March, OneStar was invited to testify before the National Commission on Military, National & Public Service to discuss ways to improve current national service policies and processes—ensuring access to, awareness of, and aspiration for national service. We recommended streamlining and simplifying national service grant programs to engage smaller and more rural organizations, increasing the living allowances to promote access and equity among prospective national service participants, and creating more part-time service opportunities to develop a pipeline of quality AmeriCorps members.
The commission has conducted public hearings throughout the country and will be making final recommendations for the Congress, the President, and the American public in March 2020. You can submit your ideas and comments to the commission through the end of the year!

3. Joint VISTA Training
In March, we hosted a joint training that brought together OneStar AmeriCorps VISTA Intermediary Project members with their counterparts serving with Texas Association of Charitable Clinics, Texas Homeless Network, Feeding Texas, and the CNCS Texas State Office. This event helped VISTAs from around the state grow professionally and gain skills with a variety of workshops covering social media marketing, event planning, interoffice communication, partnership development, asset mapping, project management, and so much more. VISTAs are often the only members serving at their site, so this opportunity provided valuable space to network with their VISTA colleagues and other nonprofit professionals.
If you are passionate about eliminating poverty while also honing your own professional skills, check out our current VISTA openings.

4. Resilent Response Forum
In June, OneStar, Good360 & All Hands and Hearts – Smart Response co-presented the Resilient Response Forum, which convened industry leaders to share disaster recovery best practices and identify ways to implement a more resilient response to natural disasters. Business, nonprofit, and government leaders explored and committed to the Resilient Response pledge, which outlines principles for thoughtful and purposeful giving for disaster response and recovery.
You can take the pledge for a more resilient response to natural disasters!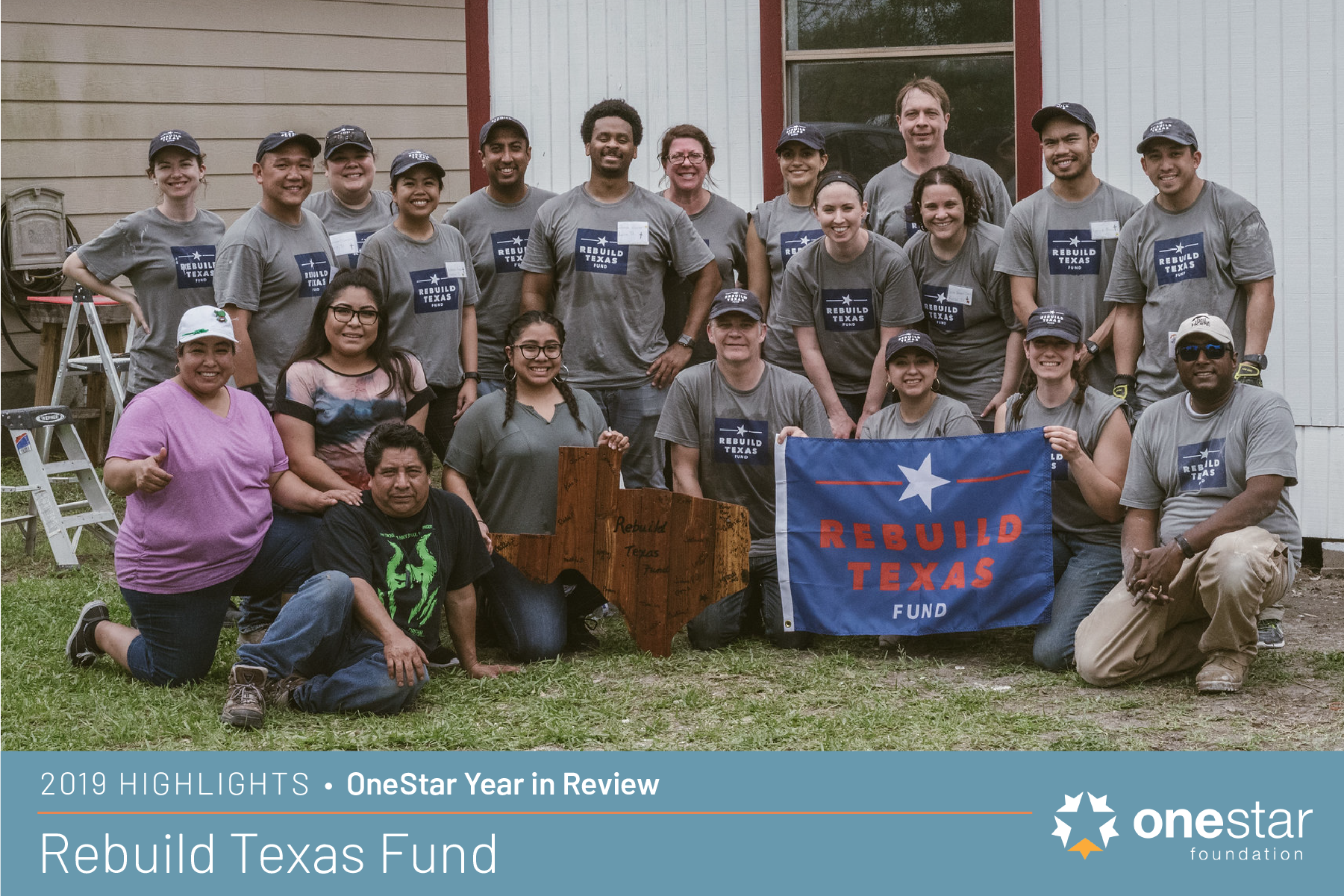 5. Rebuild Texas Fund Two-Year Progress Report
As we commemorated the two-year anniversary of Hurricane Harvey's landfall in August, the Rebuild Texas Fund, a collaborative project of OneStar Foundation and the Michael & Susan Dell Foundation, announced that all $100 million in donated funds are at work in community rebuilding projects!
Over the past couple years, we have encountered creative ingenuity, inspiring resilience, and boundless generosity from Texans supporting their neighbors in need. We are grateful to the volunteers and donors who have been instrumental in the rebuilding and recovery process, and we look forward to continuing to work alongside local communities as they complete their funded projects in 2020.
To learn more about the incredible progress made over the past two years, read our 2-Year Community Progress Report.

6. ASC Innovation & Leadership Award
America's Service Commissions named OneStar Commissioner Mary Grace Landrum as 2019 Outstanding Commissioner of the year during their Innovation and Leadership Awards reception this September in Washington, D.C. This awards program is held each year to recognize the leadership and accomplishments of state service commissions from across the nation.
Mary Grace has served on the OneStar National Service Commission since 2011 and has drawn from her extensive political and professional connections to educate and advocate for national service. She represents the state of Texas on ASC's States for Service Public Policy Coalition and advocates for service and volunteerism at the local level. Click here to learn more about Mary Grace and this well-deserved honor.

7. New OneStar Leadership
OneStar was excited to welcome Chris Bugbee as our new President and CEO this year! Chris has been with OneStar for 13 years—most recently serving as Chief Operating Officer—and was appointed to the position of President & CEO by Governor Greg Abbott in October. In the months since his appointment, Chris has been meeting with our partners and stakeholders to learn how we can foster better collaborations and exploring new strategies and approaches to promoting service in Texas.
Chris fills the role of President & CEO following the departure Elizabeth Darling, who led OneStar for 10 years before being appointed and confirmed as Commissioner of the Administration for Children, Youth and Families at the U.S. Department of Health and Human Services this fall. We are so grateful to have amazing leaders committed to strengthening Texas communities through service and look forward to this new chapter!
Click here to check out a welcome letter from Chris.

8. 25 Years of National Service
In October, OneStar commemorated the 25th anniversary of AmeriCorps with lively and exciting celebrations across the state. This milestone was an opportunity for OneStar look back at the extraordinary accomplishments of AmeriCorps members over the years, and to look forward by welcoming a new class that will be carrying on the enduring legacy of national service in the coming year.
At OneStar's flagship event in Austin, about 400 AmeriCorps members and friends of national service gathered for a celebration powered by AmeriCorps alums. The event featured with a ceremony showcasing stories from current and past members, a panel of AmeriCorps alums spanning 25 years, remarks from Director of AmeriCorps VISTA Desiree Tucker-Sorini, and the AmeriCorps pledge led by Austin Mayor Steve Adler. In addition, guests enjoyed networking at the AmeriCorps Festival, where AmeriCorps alums hosted interactive activities and resources as a living showcase of career paths stemming from national service.
You can check out our 25 Years of AmeriCorps Alums video series for inspiring examples of how national service can change lives. If you are interested in applying to become an AmeriCorps program, please review our notice of funding to learn more!

9. Governor's Volunteer Awards
In October, we honored another group of inspiring Texans at the prestigious 36th Annual Governor Volunteer Awards, which recognizes the extraordinary service of individuals and organizations that have made a difference in local communities through service. This year, we added a new category for community colleges, which was awarded to the Austin Community College Student Life Food Pantry and Resources Program for creating on-campus food pantries maintained and operated by student volunteers. Award recipients were celebrated at a reception hosted by Texas First Lady Cecilia Abbott at the Governor's Mansion, and Texas Secretary of State Ruth Hughs also offered remarks of encouragement and thanks to the honorees.
Click here to learn more about the innovative accomplishments of these Texas volunteers, and consider volunteers in your network who you can nominate in 2020!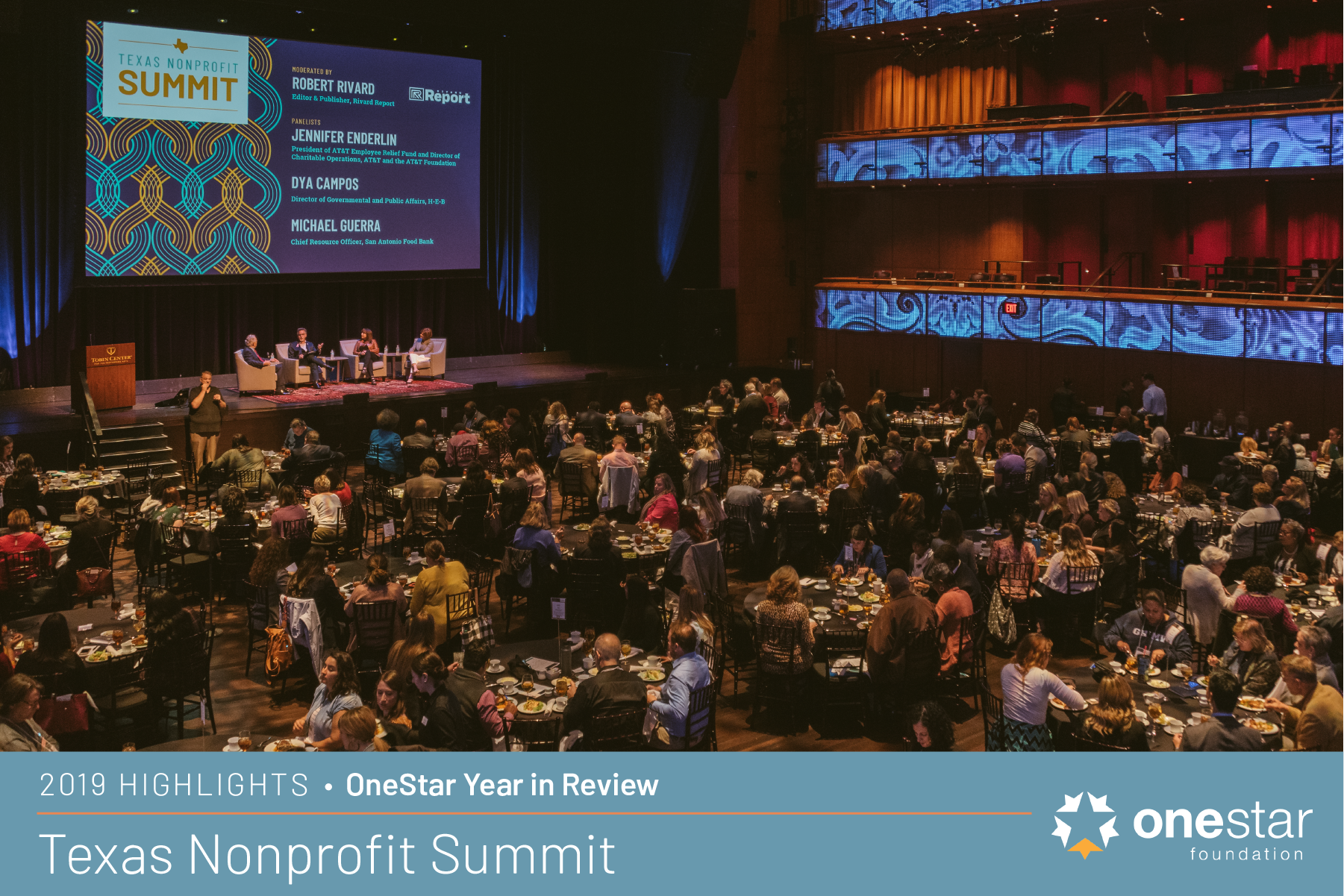 10. Texas Nonprofit Summit
After years of hosting smaller regional nonprofit summits, OneStar returned the Texas Nonprofit Summit to a statewide format that brought together about 300 nonprofit professionals, board members, funders, business leaders, and government and academic representatives this October in San Antonio. This year's theme was Finding a Common Thread: Strengthening the Fabric of our Communities – and we did just that by networking and engaging in interactive learning. We were able to highlight the amazing collaborative community engagement efforts of SA 2020, screen the powerful documentary Community First, A Home for the Homeless, gather inspiration from our keynote speaker Edie Lutnick of Cantor Fitzgerald Relief Fund, and participate in hands-on, research-driven workshops. It was a remarkable opportunity to connect with colleagues around the state and build resilience by strengthening our networks.
You can check out the photos and download event materials here, and stay tuned for details coming soon on the 2020 Texas Nonprofit Summit!